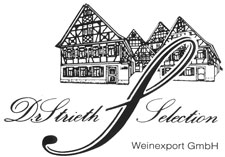 Dr. Strieth
Weinexport GmbH
Dr. Strieth Selection Weinexport GmbH: Our service ensures continuity of supply, strict product quality control and reliable delivery at competitive prices. Take a chance to contact us. All inquiries will be answered. President and owner: Dr. Heinrich Strieth
More about us ...
Highlight!
Malt Drinks
Now introducing - unique and new flavours to the Malt drink - Classic:
MALT DRINK - FRESH LEMON
MALT DRINK - POMEGRANATE
Malt Drink FRESH LEMON Malt Drink FRESH POMEGRANATE
and
MALT DRINK CLASSIC:

Non-alcoholic malt drink with only natural ingredients - produced, adding brewing sugar, in accordance with the German purity law. Malt drink's natural combination of barley malt, maltose, hops and pure brewing water supplies the body with important vitamins, vital minerals, trace elements and glycose.
Click here to download the pdf file of our offer: