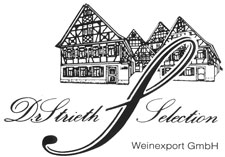 Dr. Strieth
Weinexport GmbH
Dr. Strieth Selection Weinexport GmbH: Our service ensures continuity of supply, strict product quality control and reliable delivery at competitive prices. Take a chance to contact us. All inquiries will be answered. President and owner: Dr. Heinrich Strieth
More about us ...
Special Offer Icewine!
Offer Summer/Autumn 2009 - deadline for collection before August 30th, 2009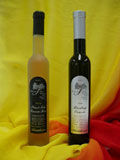 Pinot Blanc Eiswein: Eiswein white, black shoulder bottle, silver label, cellophane wrapped;
Pinot Noir Eiswein Rosé: clear frosted shoulder bottle, black label,cellophane wrapped;
Trockenbeerenauslese (TBA): black shoulder bottle, silver label, bottle size:375 ml, bottle/cs.: 12;
EISWEIN
was discovered in the 18th century Germany when an early winter froze the unpicked grapes. Rather than lose the entire crop, the vintners decided to harvest and press the frozen grapes.

If certain winter temperatures are not reached, vintners risk losing entire harvests. The EISWEIN grapes endure extreme dehydration from winter cold and sunshine, producing one-tenth the juice of a normal grape. Therefore EISWEIN ist still very rare and unique.