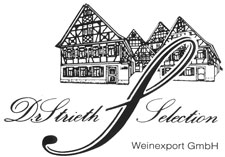 Dr. Strieth
Weinexport GmbH
Dr. Strieth Selection Weinexport GmbH: Our service ensures continuity of supply, strict product quality control and reliable delivery at competitive prices. Take a chance to contact us. All inquiries will be answered. President and owner: Dr. Heinrich Strieth
More about us ...
Apple Wine - Adam an Eve
Partly fermented, slightly effervescent, made from fresh apples, mellow and with pronounced refreshing well balanced acidity .
Alc. 4 % by Vol. 200 ml. Serve chilled.
Apple Wine is a traditional beverage made from the fermented juice of apples.This traditional drink is the preferred local beverage of the Rhine-Main valleys. It is a success story. Apple wine contains less alcohol and is much lighter than a comparable wine from grapes. It has a nice apple bouquet with beautiful aroma of apples from the German orchard.
Click here for PDF-Download: